The moment your feet hit the sand you will relax and be on Fiji Time! Qamea Island, just north of the garden island of Taveuni, is home to Maqai Beach Eco Surf Resort (Pronounced 'Mungai').
You will be warmly hosted by The Maqai Team who will do their very best to make sure your holiday is a special and memorable one. Come and embrace the 'Real Fijian Culture' that the northern islands provide. Your guest experience will be infused with the cultural, social, and environmental features of the local area. This intimate five hectare Fiji surf resort is nestled amongst a backdrop of rain forest, a stretch of private white sandy beach fringed with coconut palms, magnificent coral reefs and crystal blue warm water.
The Resort
Established in 2009, the resort works in unity with the neighbouring Fijian villages. Mums, dads, aunties, uncles, sisters, brothers, and cousins all work here and are very passionate about sharing their culture with guests. Join in Kava ceremonies, listen and sing along to melodic Fijian music, play volleyball, create jewellery, weave baskets, visit the local villages to experience island life, watch a game of exciting "Fijian" style rugby, or visit the school to see the many smiling young faces who love to meet you.
Our 'little resort with a big heart' maintains the small island eco values of days gone by. We are proud of our eco initiatives; we use solar power for energy, grow our vegetables and fruits onsite in our organic garden and also source from the local villages, use fresh spring water from the mountains, reduce, reuse and recycle our waste. We purchase fresh fish from local fishermen caught daily in the crystal clear and clean waters of Qamea Island.
Double Beachfront Bure
Steps to the waters edge with stunning water view the Double Beachfront Bure features a queen size bed, Ensuite bathroom, Wardrobe with hanging space and shelves, Louvre windows, Fan, Hammock and sun loungers, Private veranda with outdoor seating, Volleyball court, Beach towels, Private white sandy beach, 5 acres of gardens with hiking track, Complimentary tea and coffee at the sandbar.
Twin Beachfront Bure
Much the same as the Double Beachfront Bure, the Twin Beachfront Bure is just metres from the ocean features either 2 single beds or 1 queen bed and 1 single bed.
Family Beachfront Bure
The largest of the Beachfront Bures, the Family can sleep up to 3 adults or 2 adults and 2 children, it features 1 queen size bed and 2 single beds. With ocean and jungle surrounding you this bure is perfect for a family getaway.
3 Bed Beachfront Dormitory
The dormitory is mixed male and female guests, with 3 single beds, Ensuite bathroom, Fan, Mosquito nets, Hammock and sunloungers, and a Private veranda with outdoor seating. It is just steps to the waters edge, and has stunning water views. Guests will have access to the volleyball court, Dining and bar, Beach towels, Private white sandy beach, 5 acres of gardens with hiking track.
Double/Twin Beachfront Cabin
These eco style safari cabins come with quality bed linen, fan, mosquito nets, ensuite bathroom and private verandah. This room sleeps 2 to 3 guests, with a queen size bed and a single bed.
Tanoa Sea View Bure
Situated in the lush gardens and open lawn of the resort with sea views, it has an expansive deck with sun loungers and table and chairs to relax and unwind and enjoy the vistas. With a queen sized bed and a tiled ensuite bathroom with gas hot shower, this is our most luxurious bure, perfect for those who want a few more creature comforts.
CALL ONE OF OUR FRIENDLY CONSULTANTS ON 07 55 279 855 | info@surftheearth.com.au
Enjoy amazing surfing in Fiji at Maqai Beach Eco Resort on Qamea Island; you can't get any closer to the waves, they are directly offshore – no long boat rides to cut into your surf time – a 5 minute boat ride will have you surfing Maqai.
Surf season is year round in Fiji with two distinct surf seasons. The summer season from November-April and winter season May-October. The summer season is associated with smaller, shorter duration swells, 1-3 days. During this time the conditions are known as 'marine tropical' – glassy or light winds all day and hot with afternoon showers. This is the time when the rights (Maqai and Purple Wall) really fire up and Maqai becomes a true surfer's paradise, with warm water, no crowds, and various options suited for all levels of surfer.
Located 800m directly in front of the resort is 'Maqai right', a machine like wave with something for everyone, regardless of ability or wave craft. Breaking on a forgiving coral reef, the first section of the wave allows the experienced surfer to get deep barrels, before working into a very rippable face and mellower barrel section. The end section is perfect for intermediate and beginners alike, as it ends in a deep channel, and can offer up 100 metre plus rides. Virtually any size swell from the south works here, from 1 foot to triple overhead, and can be surfed at all tides.
When the swell is smaller, a friendly left hander can offer up shorter, but fun, perfect waves. On big swells another heavier left hander starts firing, and can offer up deep barrels for the experienced.
From April to October the low pressure systems in the Southern Hemisphere produce consistent ground swells which can get up to triple overhead. During the winter season, the SE trade winds in June – September are predominant (as with most of the Pacific region) and can blow offshore at Kavas and Bula Bowls for 5-7 days at a time. Then there is usually a week of calm winds between the weather patternsand this cyclic nature continues- this is when the quality right-handers can be surfed. The shoulder months between April – May and October – early November receive light and variable winds producing many glassy days. Many surferstest the shoulder months for early to late swells and score the glassy conditions.
Recommended surfboards are a short board and a fish for the small fun days, and a larger semi-gun for the bigger days in the winter months. Board shorts can be worn year round, while a rashie, (wetsuit top) & sunscreen and zinc are needed for sun protection. Booties are optional to protect the feet from the reef while surfing, but imperative for coming back to the resort during low tides.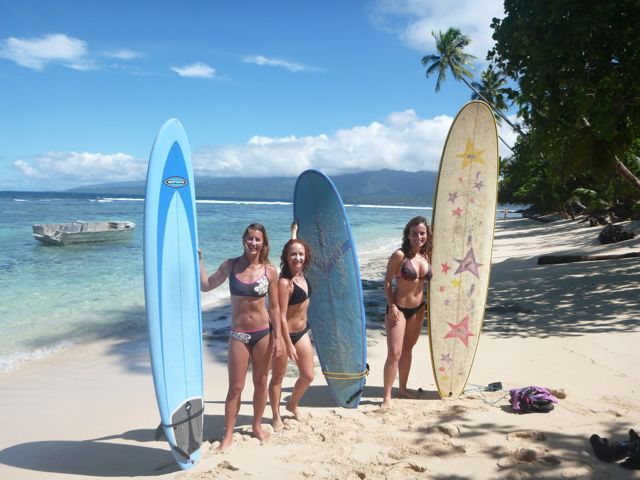 Fiji Activities at Maqai
Complimentary activities at Maqai include snorkeling on the reef outside the resort, kayaking, and volleyball. For those less active you may like to go on a jungle walk or play table tennis and chess. In the evening we have kava nights, singing and dancing.
Every afternoon volleyball takes place around 4pm. Join the locals on the court for fun times and lots of laughter. Recommended is the guided jungle walk which operates daily and is a hike above the resort, trekking through tropical rainforest and seeing amazing 360 degree vistas. Your guide will teach you all about the different plants and their medicinal properties.
Further Available Fiji Activities
Naivivi Village Tour
Over 15 staff are employed from the neighbouring village of Naivivi and many other village locals are involved in handicraft making, contracting and supplying local goods to the resort.
For an insider look at traditional Fijian village life take the tour to Naivivi village. One of our Fiji activities team will accompany you to their village and show you around the kindergarten (during school terms) and the village and introduce you to the locals. Have a game of volleyball or touch rugby or simply sit and chat over a cup of tea or perhaps a kava ceremony.
Church Service
On Sundays we invite you to join the church (lotu) service and hear the incredible singing and beautiful harmonising of the choir to a variety of Fijian hymns.
The tour takes approximately 2 hours and our activities guides will advise you of what to wear following the certain protocols of the village.
Fiji Snorkeling Tours
The snorkelling sites around Qamea Island are an underwater wonderland teeming with tropical fish and a wide variety of corals. Taveuni is known as the soft corals capital of the world with over 300 species of coral and 1500 species of fish. Scuba Dive Magazine has labelled Taveuni among the top in the world. So if you're looking for Fiji snorkeling resorts close to Taveuni, our Qamea resort is right next door.
Snorkelling Cabbage Patch
Take a guided snorkeling tour to Cabbage Patch, aptly named due to the wide variety of soft cabbage – like corals. This site is teeming with tropical fish. It is approximately 10 minutes by boat just east of the Maqai surf break and the tour takes approximately 2 hours. A great site for all ages who are competent at snorkelling.
Snorkelling Black Rock
A favourite among guests, and just 20 minutes east by boat, lies this superb snorkel spot teeming with a wide variety of soft and hard corals and marine life.
Snorkelling Shipwreck
Join us for a fun snorkel where you will swim over a series of deep trenches and over a shipwreck previously used to ferry officials to between the islands.
Fishing in Fiji & Spearfishing Trips
Fishing
Try your hand at trawling the fertile waters around Qamea Island. Yellow fin tunas, Mahi-mahi, Walu, Wahoo, Dogtooth tuna, snapper and many other species are abundant in these pristine waters. Our kitchen will be happy to cook you up your catch to your liking.
Spearfishing
Our Fiji activities guides love spear fishing it's a way of life here! Take a trip out to their secret fishing spots and land yourself a big one. The freedive spear fishing is for those who have experience free diving and using spear guns.
Kayaking & Hiking in Fiji
Lavena Coastal Walk & Kayak Option
This is a full day excursion that is out of this world and not to be missed. Located on the eastern side of Taveuni Lavena is part of the Bouma Heritage Park.
Option 1:
Your adventure begins with a gentle walk on a beautiful white sandy beach. You'll then find yourself trekking through rock pools and remote villages along a well maintained track that hugs the coastline. There are several benches and picnic tables to stop and enjoy the views. From here hike up the rivers and arrive at two cascading waterfalls. If you dare…jump or slide down the rocks into a refreshing, crystal clear rock pool. The walk is relatively easy taking 1.5 – 2 hours each way.
Option 2:
Kayak along the shore and up the rivers to the falls, leave your kayak at the falls and hike back. The trip includes round trip transfer, picnic lunch, and bottled water entry fee provided. Kayaking is surcharge. Please advise if you would like to add the kayaking option.
Bouma Heritage Park & Falls
Located on the eastern side of Taveuni the Tovoro Waterfalls are a series of three waterfalls set in the spectacular Bouma Heritage Park. The first waterfall known as the Lower Bouma Falls is 24 metres high and the most popular as it allows for easy jumping and swimming. The Middle Bouma is 15 m tall and the Upper Bouma Falls is double barrelled and has the shortest drop off at 10 metres.
The trip begins with a gentle hike on a grass verge fringed with flora and fauna, our guides will point out the plants such as: taro, pineapple, medicinal plants and their uses. Ten minutes into the hike you'll arrive at the Lower falls. This trip is great for the entire family.
Waitabu Marine Reserve
This marine park was established in 1998 by seven Taveuni villages to protect their coral reefs and marine life for future generations. A fantastic day trip for all the family to the eastern side of Taveuni, involving snorkeling, hiking and optional bilibili ride up the river. There are 2 options on offer:-
Option 1:
A guided snorkeling trip on a bilibili (a traditional bamboo raft) with refreshments and local entertainment.
Option 2:
Backpackers tour – A guided snorkel tour on a powered raft.
Waitabu Marine Reserve is a vibrant reef set aside for the benefit of snorkel tourism and environmental education. Situated on 27 hectares, the Waitabu Marine Park supports a wide variety of wildlife, from the dense forest covering the island of Taveuni to the coral reefs of Waitabu. The Marine Park has been protected as a part of the Bouma National Heritage Park and is locally managed by the communities of Lavena, Waitabu, Vidawa and Korovou.
Marine Life
The marine reserve is in close proximity to the Indo-Pacific center of coral reefs where the world's greatest concentration of marine biodiversity is located. There are 300 species of hard coral and 1,200 species of reef fish including the giant clam. After many years of overfishing and damaging fishing methods, the giant clam has developed a successful breeding ground in Waitabu.
Around the Islands Snorkel Tour & Picnic
A relaxing boat tour around the islands of Qamea, Laucala and Matagi. You'll cruise by Fiji's only 7 star resort on the private island of Laucala with its own landing strip for the rich and famous and see the 35,000 per night waterfront villa where Oprah Winfery has stayed. Cruise around to the other side of the island past the 5 star resort of Matagi. You'll stop off at several amazing snorkeling sites and anchor on a white sandy beach while our guides cook you lunch.
Around the Island Tour takes approximately 5- 6 hours.
Island Tour and Lunch at Matagi Resort
Tour the island one way and come back the other! Treat yourself to a 3 course lunch at the 5 star Matagi resort. You will have use of their outdoor pool area and beach for the day. Tea / coffee and biscuits available all day. Adults only.
Fiji Massage
Coconut Back and Body Massage
Treat yourself to a relaxing coconut back massage at the open air bure located on the beachfront. Relax and unwind while you are treated to your choice of a half hour or full hour back and body massage concentrating on your stress points.
Pampered in Paradise
The perfect package for honeymooners and those that want to indulge. Feeling guilty? Treat your partner to a massage while you are out surfing the waves. Your package begins with a therapeutic body massage and follows with a private 3 course dinner for 2 with a choice of menu and bottle of sparkling wine. Pre-booking of 1 day in advance is essential for this package. Baby sitting can be arranged.
Civa Pearl Farm Tour
Join us for an aqua culture tour of the Civa Pearl Farm. Located just 20 minutes across the water on the eastern side of Taveuni in picturesque Vurevure bay. Here you'll learn about the growing of pearls in this pristine marine environment.
This is a two hour guided combined with a snorkel around the oyster beds you'll see hung from their lines to their desired growth. A variety of loose pearls are available to purchase. Take them home and design your unique piece of jewellery all the way from Taveuni.
The Tovoroa waterfalls are located not far from this area and these 2 tours can be combined making a full day of it. You will trek through the beautiful heritage park to a series of 3 waterfalls. Trekking to the first fall takes ten minutes and is relatively flat, here you can swim in the pool or jump from the falls. The upper falls are on higher terrain walking across creeks with ropes for navigating. Trekking the three falls takes approx three hours return. A picnic lunch is provided.